Our approach to funding

Co-operation Birmingham is a co-operative so we want to ensure we provide full transparency on where our money comes from and where it goes.
We haven't been asking for funding from the local government as we want to make sure that this project is able to meet the needs of all the people in the community regardless of any gatekeeping requirements around employment or immigration status.
How we are funded
The approach we are using has relied initially on a GoFundMe campaign to raise money to set up and expand the solidarity kitchen. We are now transitioning to a regular donation model through GoCardless this is to ensure a regular and stable income for the project going forward.
Where the funding goes
Right now every delivery we make costs around 90p per meal. Below is how that gets broken down into the various costs…. (Some of the ingredient costs are hidden by the fact that we are receiving a large amount of donated food for free).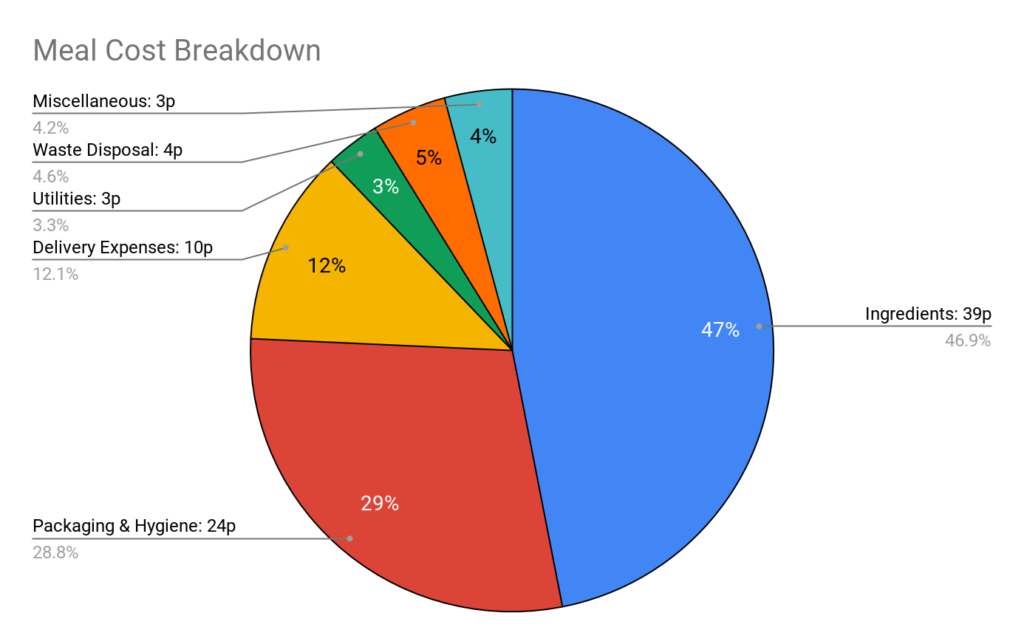 Daily delivery numbers
Over the past month as we've built up our operation, we've steadily increased our daily deliveries and currently we are able to produce 142 meals per day in our single kitchen site at the Warehouse Cafe in Digbeth. We are hoping to expand this out into other facilities going forward in order to increase our capacity.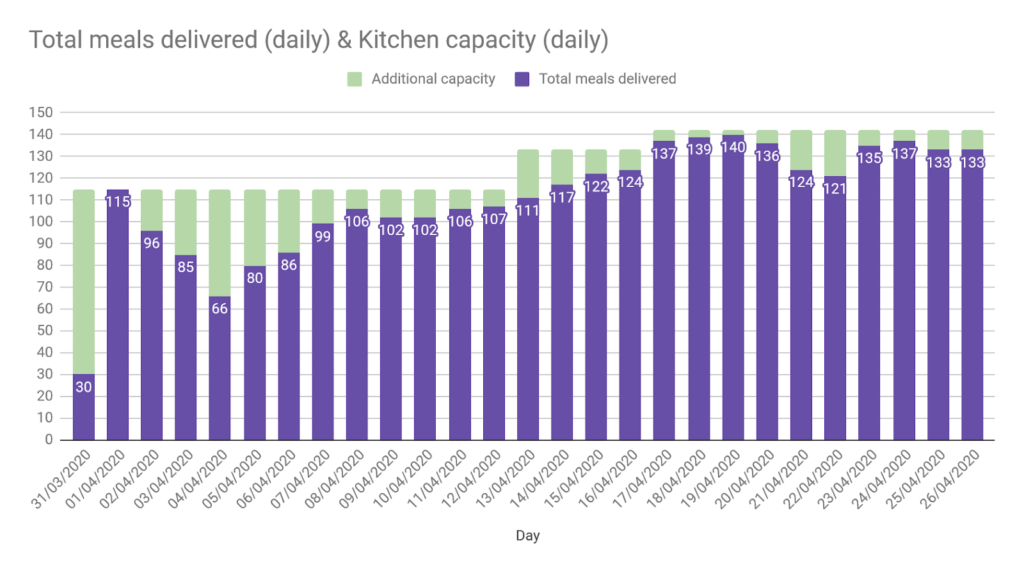 Income and expenditure
We've done a lot of rigorous analysis of our costs to get a very accurate per meal costing (90p). We have then used this per meal cost to show near enough exactly how much the operation is costing to run on any given day; the line in the chart below relating to this is given in RED.
When it comes to income this is more challenging to display as donations can be very volatile from day to day. What we've opted for is a 7 day moving average that shows the average daily donations from the previous week. This line is shown in BLUE.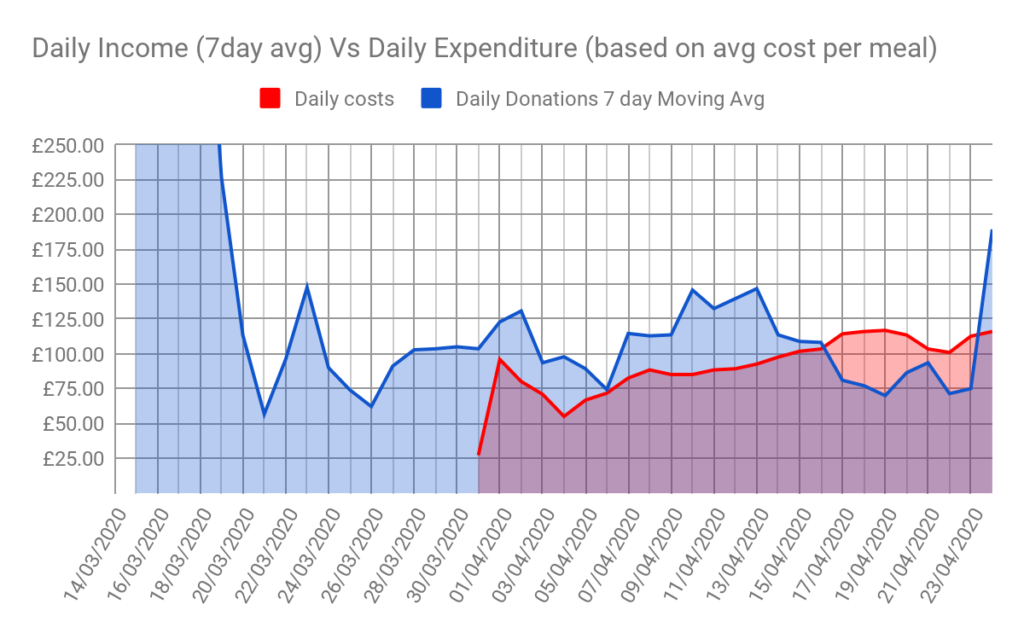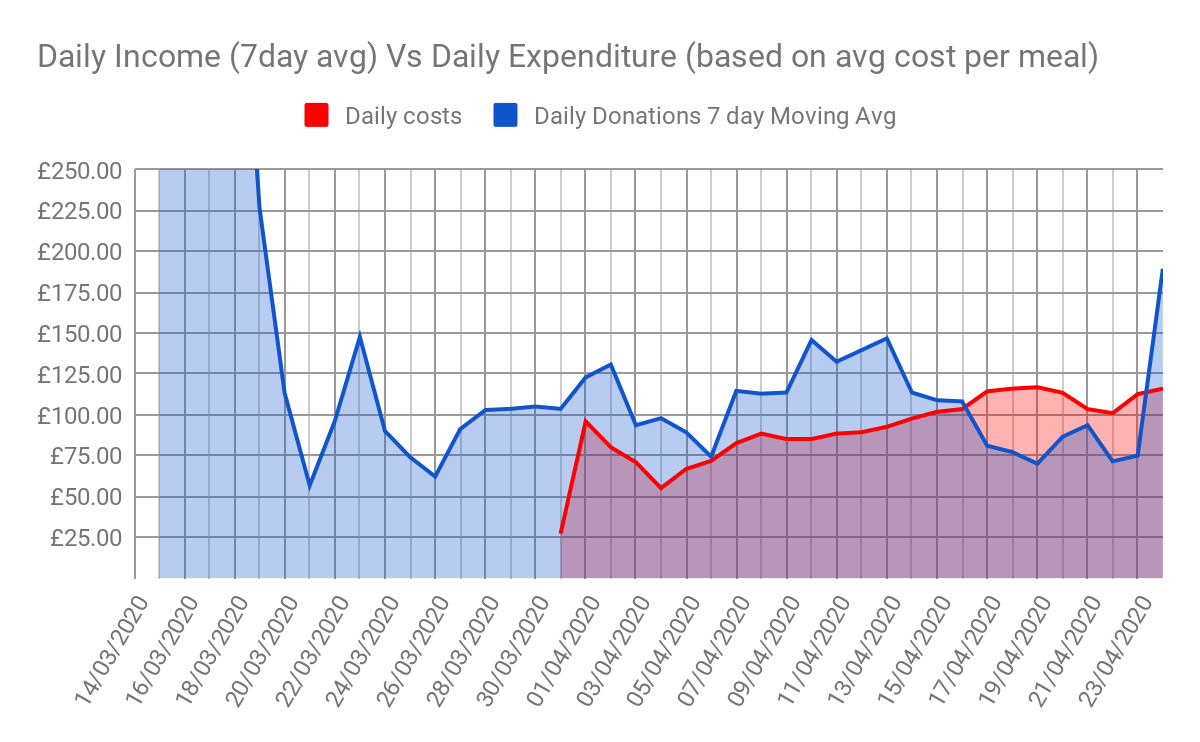 Future plans and funding moving forward
We are so grateful for all the food and monetary donations making this possible. Every time we've sent out a funding call-out we've seen a huge response and a spike in donations.
It should be noted that more recently average donations did dip below our expanding daily costs; this is one reason why we wanted to move to a regular income via GoCardless, so we can be assured of the continuity of the project.
Greater expansion is still our goal and as we scale up this will come with greater expenses and a need for more funding to match those goals.
Financial Transparency
We operate on principles of transparency and openness and so we have published some charts that are updated live from our accounts. We hope this makes it easier for folks that aren't skilled in accounting to understand how our finances work.
If you are able, please donate to the project.